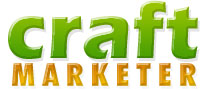 Craft Marketer Newsletter
Arts & Crafts Business Help
Issue Number 10, October 22, 2000
============================================================
IN THIS ISSUE
============================================================
1. Pricing your craftwork
2. New book review
3. Subscription Management
4. Contact Information
------------------------------------------------------------
1. Pricing Your Crafts by James Dillehay
------------------------------------------------------------
The most asked question among arts and crafts persons
is "How do I price my crafts?" I have come across many
quick formulas that try to make the task easy. But after
looking at the whole pricing picture, I found the most
accurate way to price is to use this formula:

COST OF GOODS - (materials + labor)
+
INDIRECT COSTS - (overhead expenses like rent, utilities,
insurance, phone, etc.)
+
PROFIT - (what you expect to make beyond the cost of your
labor)
=
MINIMUM PRICE

Determining COST OF GOODS:
Add up the costs for producing one item. If you use small
quantities of paint, glitter, buttons, etc. that you buy
in big containers, you may have to guess at the amount to
include. Larger parts are usually easy to figure.

Your labor is what you decide your time is worth at an
hourly rate. Many of you are making $2 an hour or less
because you haven't added in a decent wage for yourself.
I would set your minimum hourly rate at $10 to $15. If you
hire someone to work for you at say, $7 an hour, add an
additional 30% (or $2.10, in this example) per employee
hour to cover federal employee taxes like social security.

Determining INDIRECT COSTS:
Indirect costs, sometimes called "overhead" or fixed costs,
are more challenging to figure for many of us, because
we work at crafts and forget that the rent or mortgage
payment has a relation to our business of selling crafts.

But, if you work from a crafts office, the IRS allows you to
deduct an amount of your rent and utilities as a crafts
business expense. That deductible amount may change from
year to year as the tax laws change.

The crafts office deduction is an important tax break for
you so you should read the IRS booklet that arrives with
your tax forms to learn the current deductible.

Other kinds of indirect costs include: ads, phone, repairs,
postage, bank fees, insurance, office supplies,
publications and any other expense that not directly
associated with product costs.

Say that you operated your business in 1999 and you kept
records that show you spent $12,000 in overhead or fixed
costs.

You want to learn what percentage of those fixed
costs should be applied to your product cost.

Add up the total number of hours you worked producing
crafts in 1999. Let's say you put 2,000 hours in working
full time. Divide the total indirect costs of $12,000,
by 2,000 and you get $6 per hour as your "hourly fixed
cost of doing business." In other words, this is what it
cost you per hour to stay in business.

Determining PROFIT:
Most of us don't add in profit when pricing, because we
figure we are getting back our hourly labor rate. But
you need to add a profit margin into your prices because
of unforeseeable expenses and losses that might occur. No
matter how well I plan my business, there is always an
unknown.

Another way to look at profit is that if you put your
money into a mutual fund or similar investment instead
of your business, how much would you expect to earn --
10%, 15% or more?

Determining a MINIMUM PRICE:
Let's take an example. Alice is a rag rug maker.
She learns she has $3 in material costs per rug. She wants
to pay herself $12 per hour for her labor and it takes her
2 hours to produce one rug.

Alice works from crafts and has determined that $4 an hour
covers her indirect expenses. Also, Alice has invested
some of her savings in her business. If she had put this
money in a mutual fund, she would have earned 10% interest.

COST OF GOODS: $3 materials + $24 labor (2 hours X $12/hour)
for a total production cost of $27.

INDIRECT COSTS: $8 (2 hours X $4/hourly cost of doing business)

PROFIT: $3.50 (10% of total costs)

MINIMUM PRICE: $38.50

$38.50 per rug is the lowest amount Alice can charge to get
back her costs, pay herself for her time and get a similar
return on her investment as she would have through a mutual
fund.

Does this mean that Alice should charge $38.50 for her rugs?
No, but that amount is the lowest price she can ask.

Knowing your minimum price is especially useful when selling
to stores because the amount that you charge at a craft fair
may not be the price you can sell to stores for. Most stores
double their costs to arrive at a retail price for consumers.
By the way, when selling to stores, never argue with the
owner about the prices they charge their customers. They
know their market and what products sell for. I've found
many store owners offer good suggestions that help me
determine the market value of my craft work.

If Alice only sold at craft fairs, she would want to check
out what rugs like hers were selling for and ultimately
find the highest price she can sell for that doesn't deter
customers from buying. This involves testing the market
over time, but it's worth the effort.

I priced one of my pieces for $85 but it just wouldn't sell.
Figuring I had nothing to lose, I raised the price to $125
and it sold right away. When I went above $125, again, no
one bought.

Most of the above and much more help on pricing, tax advantages,
recordkeeping, cutting material costs and other strategies
for craft persons can be found in, "The Basic Guide to
Pricing Your Craftwork." $12.95 from
http://www.craftmarketer.com/pricing-crafts.htm

------------------------------------------------------------
2. New Book Review
------------------------------------------------------------
Since we're on the subject of profits -- Have you ever
wondered what other arts and crafts persons do to make
a profit?

Home business and crafts expert, Barbara Brabec, put
together a network of 80 professionals in the craft
industry whose answers to questions we all face daily are
included in her new book, "Make It Profitable, How to Make
Your Art, Crafts, Design, Writing and Publishing Business
More Efficient, More Satisfying and More Profitable."
($16.95)

In addition to many helpful tips and checklists,
Barbara's book covers topics like:
* Building business with computer technology
* Business planning and goal setting
* Management tips and strategies
* Product design and packaging
* Production methods
* Supplies and shipping
* Sharpening your marketing skills and much more.

I found the technology tips very useful. But what I really
liked most about this book is that you get to read insights
related by craft persons just like us who have found and
share ways they've used to improve craft business
profitability.

The 334 page book is packed with advice you can use today.
I can see why it was a "Book of the Month Club Selection."
You can get the book at a 10% discount from Barbara's web
site: http://www.barbarabrabec.com/make_it_profitable.htm

------------------------------------------------------------
3. Subscription Management
------------------------------------------------------------
To subscribe or unsubscribe, go to newsletter and follow the instructions.
If you found this information useful, please pass on
this email to friends.

[all past issues] [last issue]