"Very well done, and should be of great help to anyone wanting to start your own busines. A fine book." -- Director, U.S. SBA, Washington, D.C.
"This book is an extremely refreshing guide to starting and operating your own business." -- National Society of Accountants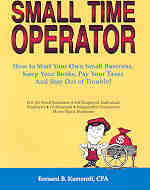 Start your own business with this complete guide which covers everything including permits and licenses, insurance, financing, leases, business plans, bookkeeping, taxes, employees, partnerships, corporations, trademarks, dealing with the IRS, and much more.
Written by Bernard Kamaroff, CPA. Recommended by the U.S. Small Business Administration and the National Society of Public Accountants.
Be Your Own Boss. Start your own business. Turn your idea, your hobby, your skill or trade into a successful venture of your own:
Sales, service & repair businesses

Stores & shops

Craftspeople & artists

Independent contractors

Consultants, professionals & freelancers

Manufacturers & inventors

Internet, mail order, import & export

And all crafts-based businesses
Whether you're looking for a full-time living or some extra sideline income, Small Time Operator with 600,000 copies in print is your road map to start your own business.